Set up your ad in 3 simple steps:

1. Customize your ad
Use our simple template to create perfectly sized ads for Facebook and sites across the web. Or, upload your own design.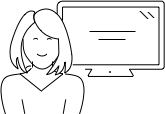 2. Enter your website
Set a click-through webpage so that people who click your ad can be redirected to your business website.

3. Start retargeting
Make sure your site is set up with a short line of code on the webpage you want to retarget people from.